01/06/2019
Araxxe featured in new Technology Research Institute report!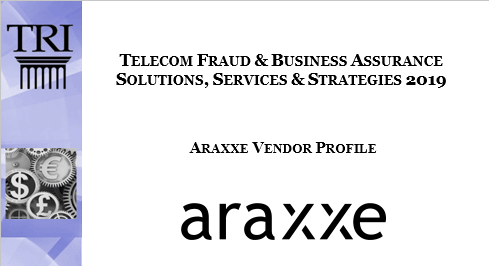 "TRI estimates the global market for telecom fraud control and business assurance solutions will be between $200 and $250 million in 2019!"
The Technology Research Institute (TRI) has just released a 495-page research report that has "a focus on both fraud and the broader business assurance profession and solutions market".
As these two topics, fraud and revenue assurance, are at the core of Araxxe's business, Dan Baker - TRI's Research Director and Owner - interviewed Araxxe Experts and as a result, he has drawn an extensive profile about Araxxe that will give the reader great insight into the strategy and tools used by Araxxe to help Telecom Operators identify billing errors and combat interconnect fraud.
On Fraud detection / SMS Fraud:
"Araxxe is an expert in identifying SMS routing problems through its network of test call robots. If an operator wants to know whether its SIM cards are being used to terminate traffic in a particular destination, Araxxe generates SMSs from Google, Facebook, etc. with A2P origin to many networks in Europe or even worldwide. The results will show exactly which traffic from the SIM cards are being transformed to P-SMS to Russia, Canada, Germany, Mexico, etc."
On Revenue Assurance:
"An interesting point is that Araxxe has no need to see the rating plans of the operator. Rather, it uses public information such as what's featured on the operator's website or in a marketing brochure.
And frankly that's the beauty of the approach: the rating system could be in error, the switch-to-bill configuration could be wrong, or the advertised market price could be different. That's what Araxxe's analysis determines. The key value of this service is to look at the bill from the end user customer's eyes: the best place to begin.

Download the report's Executive Summary and Araxxe's Company Profile: Araxxe_ Solution Provider Profile TRI Executive Summary
The quotes mentioned above are an extract from the TRI Study. More info can be found at http://technology-research.com/products/fraudra/fm_toc.php
08/04/2019
GSMA Mobile 360 Latin America - Mexico City, Mexico

As a proud new member of the GSMA Latin America, Araxxe is pleased to attend the GSMA-Latam Plenary Meeting at the Mobile 360 Latin America!
The event will take place in Mexico from the 4th to the 6th of June 2019.
If you wish to meet us on site, feel free to contact Fidel Aponte, our VP Sales LATAM, prior the event (fidel.aponte@araxxe.com).

More information about the event on the GSMA LATAM website here.
07/04/2019
Risk & Assurance Group (RAG) - Bonn, Germany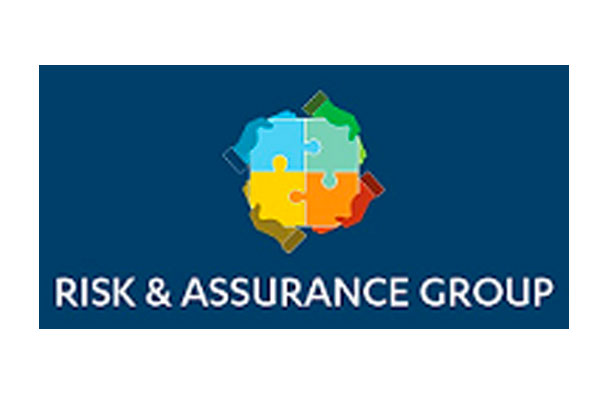 Xavier Lesage, our President & Emmy Leger, our VP Sales EMEA will go to the next RAG event (Risk & Assurance Group) in Bonn.
As a proud sponsor of the organization, we will be present for the whole event, on the 11th and the 12th of June 2019.
Feel free to contact Emmy if you wish to schedule a meeting on site! (Emmy.Leger@araxxe.com)
More information about the event on the RAG website here.
06/04/2019
CFCA Annual Meeting & Summer Educational Event - Minneapolis, USA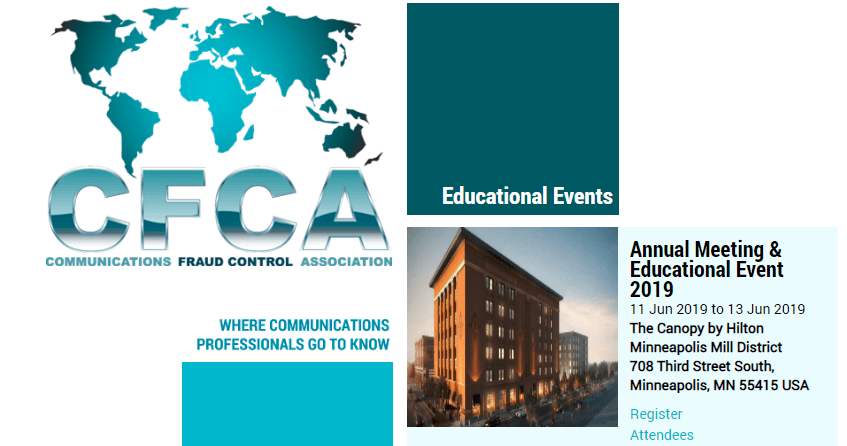 Our Chief Commercial Officer, Frederick Van de Weghe & our VP Sales LATAM, Fidel Aponte, will be at the upcoming CFCA Annual Meeting & Summer Educational Event from the 11th to the 13th of June 2019.
The event will be hosted in Minneapolis, USA.
If you wish to contact Frederick or Fidel to schedule an appointment before the meeting, you can send them an email at Frederick.Van.de.Weghe@araxxe.com or Fidel.Aponte@araxxe.com.
More information about the event on the CFCA website here.
05/04/2019
Risk & Assurance Group (RAG) - Toronto, Canada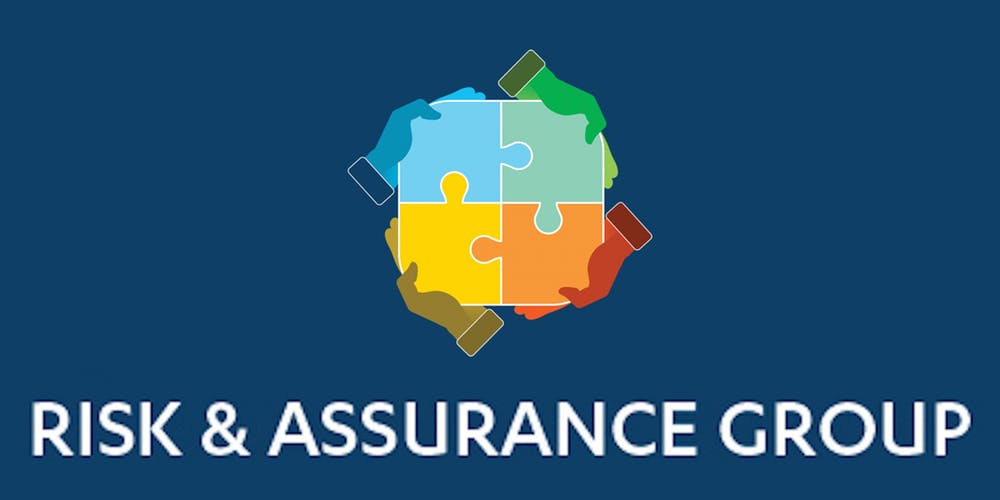 Araxxe will sponsor and attend the upcoming RAG event (Risk & Assurance Group) in Toronto on the 19th and the 20th of June 2019.
You want to contact us to book a meeting there? You can contact Frederick Van de Weghe, our Chief Commercial Officer (Frederick.Van.de.Weghe@araxxe.com).
More information about the event on the RAG website here.
04/04/2019
GSMA Fraud & Security Group #14 (FASG) - Paris, France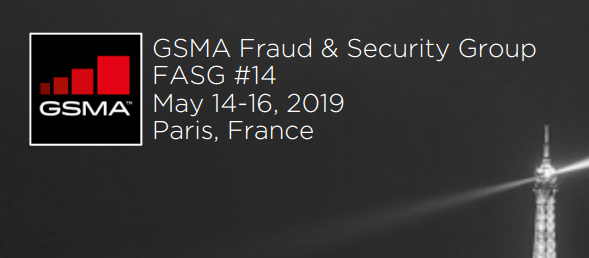 Araxxe will attend the upcoming GSMA Fraud & Security Group #14 (FASG) in Paris, France, from the 14th to the 16th of May 2019.
Frederick Van de Weghe, our Chief Commercial Officer, will be on site on the 3 days. You can contact him at frederick.van.de.weghe@araxxe.com to schedule a meeting prior to the event.
More information about the event on the GSMA website here.
03/04/2019
New Araxxe Whitepaper: About Change Assurance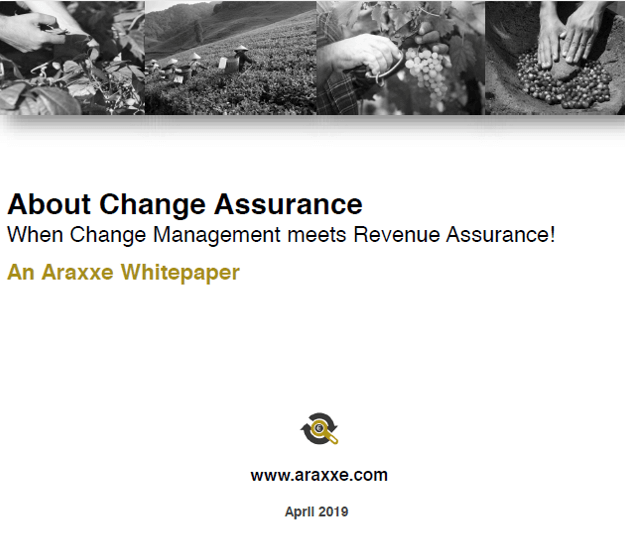 When Change Management meets Revenue Assurance!

In the highly competitive telecoms market, communication companies must constantly improve their products and services to keep up with customer expectations.
They have to deal with multiple and complex systems – IT Systems, Network Components and Devices – that have become increasingly dependent on effective testing to ensure that they are risk-free. This is especially critical as their customers always demand the highest system availability and stability.
Therefore, it is not surprising that the strain on the testing function is increasing. The release cycles are shortened and the time available for testing is reduced, but the testing effort required to detect faults in time remains the same.

Araxxe has just released a whitepaper that provides you insights in the highly technical world of It systems and migration testing. It gives directions on how to use Araxxe's TCG services as a preventive role to validate an IT system, this in order to avoid underbilling and or overbilling.

Do you want to know more?
Download the whitepaper here and if you have any questions related to it or to any of our Revenue Assurance or Fraud Detection services, please don't hesitate to contact us. We will be happy to help!
01/04/2019
GSMA Latin America Membership

After some years of sponsoring the Global GSM Association, Araxxe is now proud to also be a member & a sponsor of the GSMA Latin America! You could now also meet us on GSMA Revenue Assurance & Fraud detection events in Latin America!
More information on the GSMA Latam here.
04/03/2019
Data Bundles, Data Metering and Data Roaming: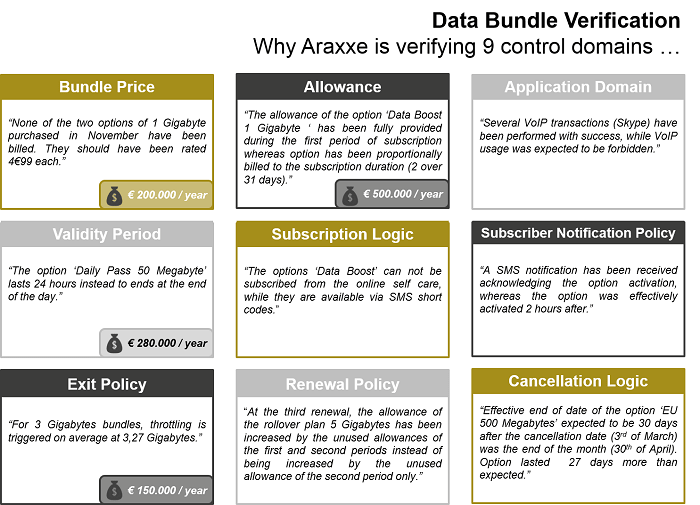 We check every byte is counted, so you know every byte is billed!

"How much data do I need?"
We all shop around to get the fastest speed, the best value, and always, more data.
Your innovative marketing team is constantly building new ways to attract consumers. This is to increase customer loyalty & avoid churn. Some offer; "unlimited" data on social media or "unlimited" data when video streaming. Others implement extra data for specific activities, such as, "extra music (Spotify)" or "extra streaming (YouTube)." Even data roaming passes are now common practice.

So, the question is: Do you bill these new data services properly, to prevent revenue leakage and customer experience issues?
Is the data allowance, for the option you have built, applied correctly? Has the validity period been respected and has it ended at the right time? Do your subscribers really get a notification when the data limit is met as per your policy?
Actually, all those "unlimited" offers are not really unlimited… This is such a complex process that even regulators now start to regulate how data bundles should be checked and invoiced.

How Araxxe can help you?
If you want to keep up with increased data billing, better manage the increased number of features you offer and how you bill those features, we can help you.
Araxxe is the unique provider to have defined a systematic approach to verify exhaustively data bundle implementation within operator's billing chains.
Control domains go from the subscription logic to the cancellation logic, from the price to the allowance, from the exit policy to the renewal policy without forgetting the validity period and the subscriber notification policy.
We verify data bundles from standard test plans to fully customized test plans tuned to best suit your business priorities. As such, bundle subscriptions via SMS, allowance rollover checks, zero rated applications within a data bundle, throttling controls, pro-rated allowance/price coherence verification,… are part of the monitoring scope.
Our platform generates transactions according to tailormade test plans & match these transactions with public and internal tariff information. In this way, we can deliver actionable findings supported by detailed proof reports and estimate business impacts to allow you to prioritize billing error corrections.
If you want to know more about our Data Bundle Billing Verification Service, or any other Revenue Assurance or Fraud Detection solution, don't hesitate to contact us, we will be glad to help!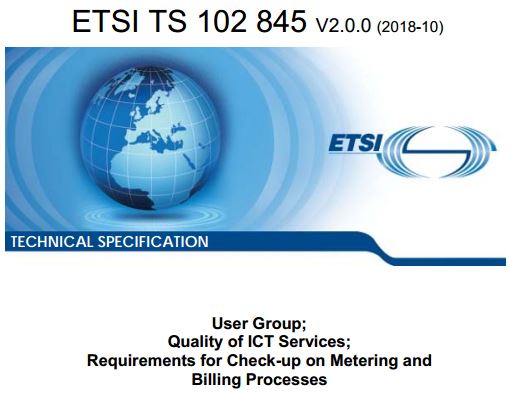 Collaboration of Araxxe to the newly released ETSI Standard for Billing Verification
Back in 2009, Araxxe was involved in the ETSI's Technical Committee User Group (European Telecommunications Standards Institute) to define the TS 102 845 Billing Verification Standard.
But almost 10 years later, it is time for an update! Araxxe participated again with other vendors and operators in a project to update this important technical specification.
What is the ETSI standard and why is it important for you?
Operators, regulators and other players in the telecommunications market can find in the standard a model for designing and operating the check-up of metering and billing processes and systems. In addition, it provides operators guidelines and best practices on which information and how the billing chain should be checked.
What has been updated since the first version written in 2009?
Several new recommendations have been made concerning billing verification of value-added services (e.g. mobile money). On top of this, the standard contains advice on how to control promotional offers that are currently common practice in the telecommunications market (e.g. unlimited offers).
The standard also contains a new chapter about the test methodology which could be applied for billing verification; in other words, what should be done technically to make sure an operator has full control of the billing chain.
You can view the ETSI document here.
How and why can Araxxe help?
Since Araxxe has been involved in building this standard, it goes without saying that our managed services are fully compliant with TS 102 845. By using our services, a communication company will directly benefit from our standardised approach to checking metering accuracy and rating correctness.
Choosing Araxxe to outsource your billing verification services gives you access to a fully managed service:
Do you want to monitor how your customers experience international calling and also if they can use all national services in a roaming environment? Araxxe owns 250+ robots spread throughout 170 countries. This allows us to build scripts covering billing checks locally, on an international level and to test your roaming rate plans!
Do you need an 'all in' solution with a flexible scope? Any revenue stream can be monitored by Araxxe: postpaid billing, prepaid charging, M2M, IoT, corporate rate plans, data services, data bundles, outbound roaming, prepaid top up, premium rate services, interactive TV services, and more.
Do you want to know how much revenues are at risk due to billing errors? Our analysts will prepare a clear financial impact estimation based on the billing errors found in your network.
If you want to know more about the ETSI standard and our billing verification services, do not hesitate to contact us and we will be happy to help you further!