Billing errors impact the revenues, customer experience and cause reputational damage for mobile operators. Whilst many operators think they are immune from this type of problem by offering subscribers bundles and unlimited usage, Araxxe testing has highlighted many issues with these plans. Uncharged data usage, incorrect bytes count, incorrect application of bundle fees, confusion between local, "Roam Like Home" and "Non Roam Like Home" zones, delayed application of throttling, missing customer notifications by SMS, bundle renewal process, and rollover errors to mention but a few.
Araxxe's new billing observatory helps operators understand the level of billing errors in different countries and regions around the world.
Our unique maps display Billing Error Rates (BER) of Data transactions performed in 339 networks in 117 countries over 5 continents. Maps are designed to help visualize where and how often problems occur. All Billing Error Rates are calculated according to the international Standard ETSI TS 102 845, ensuring that figures are reliable, comparable, and actionable.
All testing was carried out using Araxxe's global network of resources.
We can detect billing errors whenever and wherever they occur!
Worldwide Data & Roaming Billing Error Rates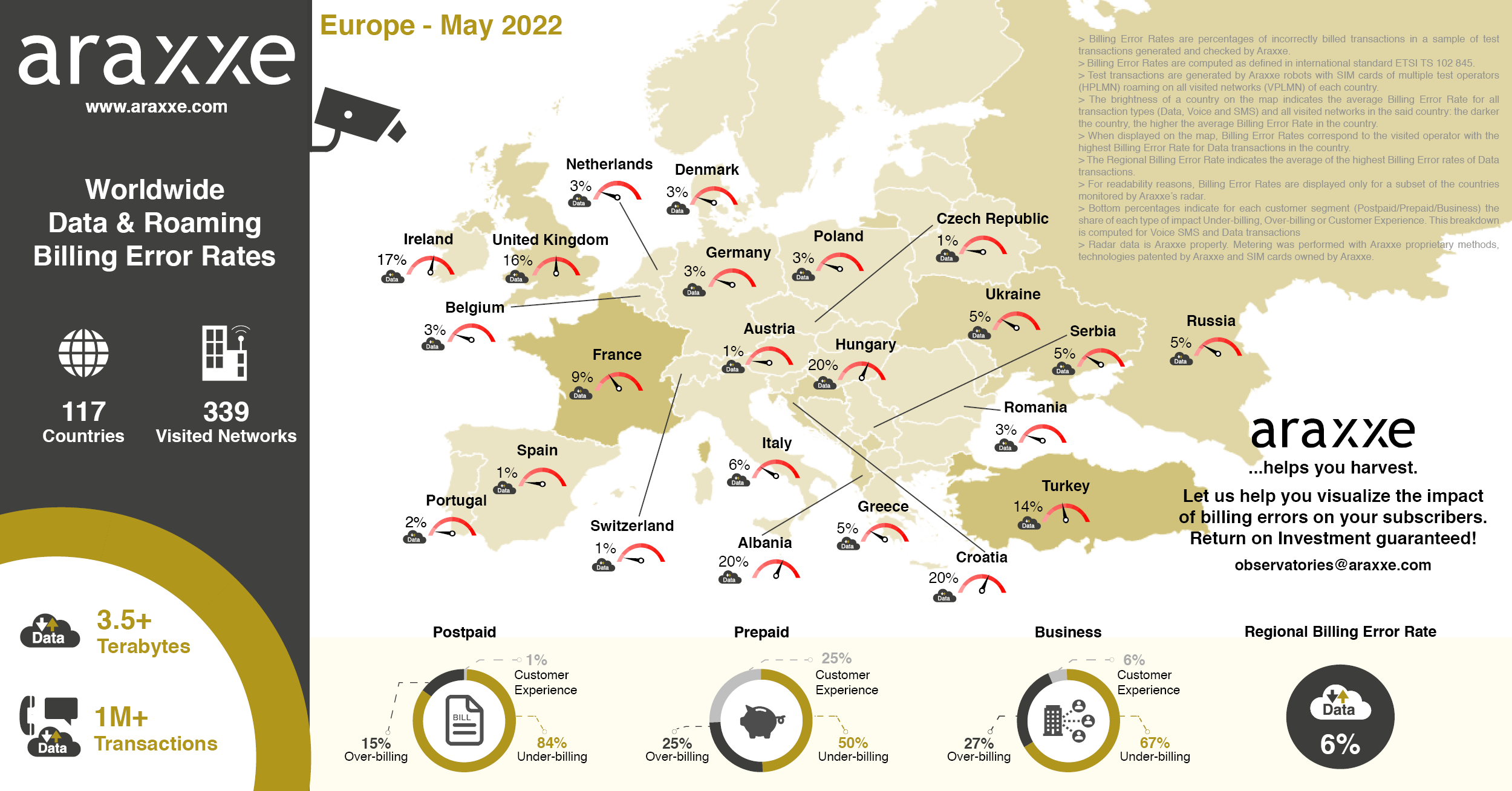 With our global network of telecommunications resources and highly qualified team, Araxxe's mission is to help communication service providers maximizing profitability by ensuring billing accuracy, eliminating unnecessary costs and helping to maintain brand reputation:
With our Billing Verification services, we check rating, bundles, metering, data passes, roaming passes, Roam Like at Home applicability, SMS notifications and much more!
Let us help you to identify and correct your billing issues!
Feel free to contact me at frederick.van.de.weghe@araxxe.com